Penguin Bloom : The odd little bird who saved a family by Cameron Bloom and Bradley Trevor Greive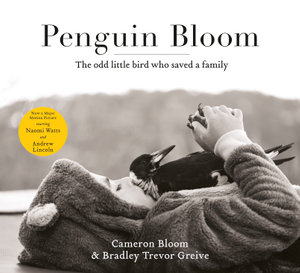 An uplifting and poignant book, Penguin Bloom: The odd little bird who saved a family, speaks powerfully from the lived experience of a horrifying accident and the long road to acceptance of the consequences of that accident. It is written by Cameron Bloom and Bradley Trevor Greive. The beautiful photography throughout is by Cameron Bloom. Harper Collins have published this book in hardback format. The cover and internal design and photography are beautiful. 
Penguin Bloom is written in the first person voice of Cameron Bloom. He narrates the story of his life with his wife Sam and his three boys Rueben, Noah and Oliver. The story begins with when he first fell in love with Sam and it traces their family before and after the accident which changed all of their lives irrevocably and profoundly.  It is a deeply personal story, full of love and pain. Through this harrowing experience, the family learnt to rebuild their lives in a new way. Central to this rebuilding was the arrival of a wounded magpie that became a family member and saved the family from the self destructive spiral of guilt, depression and hopelessness that they had drifted into since the accident.
This true story is told with warmth. It flows well although it is emotionally not an easy read. There is a personal message from Sam herself at the end which is a no holds barred piece of advice for anyone who has suffered or had someone close to them suffer serious spinal cord injury and been paralysed. As she states,her words are ". . . brutally honest" but coming from someone who lives the experience, they are supportive and give hope and advice. A generous percentage of the book's royalties go to support the work of Spinalcare Australia.
This is a book that people all over the world will identify with. Sam's accident could happen to anyone of us. Set in Australia, as it is, the family life, the landscape and Penguin Bloom herself are very recognisable to Australian readers. This beautiful family are a tribute to the power of love, of family relationships and the importance of our relationships with animals.  It is now a major motion picture starring Naomi Watts and Andrew Lincoln.
Highly recommended.
Themes: Accident victims, Life changing events, Family relationships, Human-animal relationships.
Wendy Jeffrey