Penguin Bloom by Chris Kunz; based on the screenplay by Shaun Grant & Harry Cripps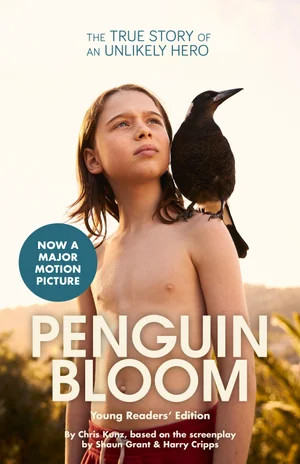 Penguin Bloom, the true story of an unlikely hero by Chris Kunz is adapted from the movie Penguin Bloom and is the young readers' edition of Penguin Bloom, the odd little bird who saved a family by Cameron Bloom and Bradley Greive.
Chris Kunz is a writer who works across the TV, film and publishing industries. Work along similar lines that she has written include the children's series with the Irwin family and Australia Zoo and the RSPCA for Random House Australia. Writing a book that is a film adaptation is a different craft. In this young readers' edition, Kunz writes from the point of view of Noah, the oldest boy of the family. Written in first person, it offers a slightly different perspective to the original version which was written by Noah's father.
Penguin Bloom, the true story of an unlikely hero, describes a family coping with the aftermath of a shocking accident through the eyes of a son. Sam, the mother, suffers a freak accident while the family are on holidays in Thailand when a balcony collapses. As a result of the fall she becomes a paraplegic. The story follows her depression and the family's attempts to rally around her and adjust to having a once active mother becoming totally dependent on others for her every need.
Into the story comes Penguin, an injured, orphaned magpie who has been abandoned after falling from her nest. She is unable to fly. The plight of the bird mirrors that of Sam. Penguin becomes a much loved member of the Bloom family. Her attachment to the family, her uncanny understanding and her funny antics are just what the family needs in order to heal.
As in all stories where an animal is involved, there is heartbreak but what a beautiful story of hope, courage and survival this book is. It is frightening for us all when we read about something that could happen to any of us. The raw truth, the pain and the love remind us of our frailty, our shared humanity and the mystery and wonder of other creatures.
Themes: Biography, Family, Accidents, Disability, Birds, Depression, Hope.
Wendy Jeffrey