Peanut Jones and the illustrated city by Rob Biddulph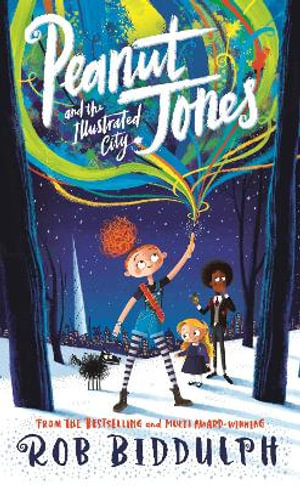 Peanut Jones and the Illustrated City by Rob Biddulph is the first novel in what will undoubtedly be a fabulous new series. This brand-new adventure is one like no other, with characters that are endearing and relatable. The storyline is full of adventure, suspense and creativity with an underlying thread of determination, teamwork and grit.
Peanut Jones is a twelve-year-old girl who loves art and creativity, just like her father. Life was good and she was happy at Melody High. But after her father mysteriously left the family a year ago with a postcard message, things began to change. Peanut strongly believes that something has happened to him, but no one will listen to her. Her whole family life has never been the same since he left, her brother doesn't really talk much now, and her mother has sent her to a new school that she hates. She also has a new school study buddy named Rockwell who desperately wants to be her friend, but she is not interested. Life is miserable!
When Peanut discovers a magical pencil hidden in a special box made by her father, things in Peanut's life dramatically change. This pencil is not your average pencil that draws and erases! After sharing her findings with Rockwell, soon they are on an adventure into another world, with her little sister Little-Bit. Peanut believes she can potentially find her father and bring him back to the family, so that everything will be right again. As Peanut, Rockwell and Little-Bit begin their adventure, they are entering into a world of the unknown, where life is different, rules have changed, and things are not as they seem. Can Peanut and her friends conquer the evil, and bring back creativity and imagination to a world that is hanging by a thread of colour?
Rob Biddulph has once again created a highly engaging and inspiring novel. This story will appeal to both boys and girls who enjoy adventure, suspense and fun. Biddulph's illustrations fill pages with further engagement and coolness. A truly talented author and illustrator, he has created a novel that will be enjoyed by many!
Themes: Adventure, Problem solving, Creativity, Art.
Michelle O'Connell