Pawcasso by Remy Lai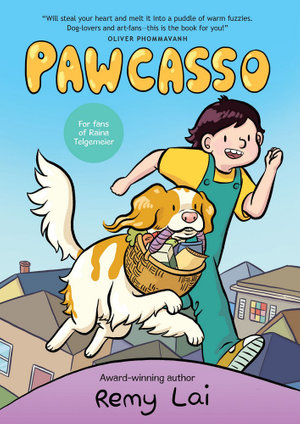 It is the first day of summer break and other kids are keen to get out and enjoy their freedom but Jo is languishing inside with her mum, her older sister who teases her about having no friends and her younger brothers. When a dog passes the house holding a basket in its mouth with no owner in sight, Jo is intrigued and follows it. The dog enters a number of shops where the owners look at a shopping list and fill the basket. When the dog goes into a library where some of Jo's school friends are learning about the artist Picasso, they assume the dog belongs to Jo and want to paint the dog, not the pear the teacher intended. When more people assume Jo is the dog's owner it becomes too embarrassing to correct them, and Jo is enjoying the distraction. Her father works in Indonesia and only comes home occasionally which makes her angry, she is reluctant to make friends in case they too go away and hurt her.
When the dog passes her house again Jo is ready to find out what will happen next. Their adventures escalate involving more and more of the community who divide into dog lovers and those who think they should be leashed at all times. The local dog catcher gets involved and it becomes imperative to find the true owners and tell them the dog is in danger. On the journey Jo learns a lot about friendship and support and about needing to take other people's feelings into account.
This is a colourful and fast paced graphic novel with some positive messages and likeable characters. At 235 pages it covers a lot of action and multiple story threads, maybe trying to pack in too many issues but primary independent readers will enjoy it and it would make a good read aloud book with issues that can be discussed as they arise. Teacher's tips and activities are available. The author discusses the book here.
Themes: Friendship, Dogs.
Sue Speck