Old enough to save the planet by Loll Kirby. Illus. by Adelina Lirius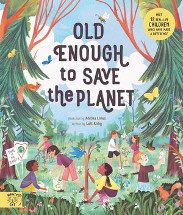 Old Enough to Save the Planet champions children and teenagers who are involved in climate change projects. What an uplifting and engaging book which shows that even simple activities such as turning school food waste into compost for the city makes a big difference. Twelve children from across the world have been chosen as ambassadors.
Felix from Germany began Plant for the Planet when he was nine, encouraging local school children to plant new trees when forests are cut down. When she was twelve, Adeline from Indonesia formed Friends of Nature after flooding impacted the native mango trees and caused problems with the natural environment. Shalise from Australia began a campaign to clean up beach pollution at the age of eleven.
Each double page spread is beautifully illustrated showing the environment where each ambassador began their campaigns. The text flows throughout the colourful pages, describing how the children began their actions and notes about the impact of climate change, human pollution, gas emissions, poaching and rainforest decimation occurs. Empowering statements written in bold are the titles for each changemaker, Hengde School in China - 'we're dedicated enough to save water.'
Old Enough to Save the Planet is an excellent resource for Environmental Education, in primary and lower secondary schools. Adeline Lirius uses natural tones and brings the different environments to life. Finally, there are action plans for ways for children and teens to begin their own campaigns and make their causes heard. Real photos and links to websites would have added the impetus for further research.
Rhyllis Bignell