Oddity by Eli Brown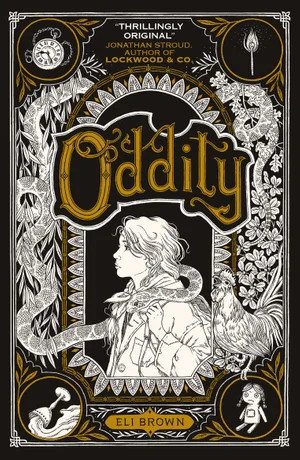 Jonathon Stroud states, on the front cover of Eli Brown's latest novel Oddity, that the book is "thrillingly original." So it is!
Aesthetically, Oddity is a delight for appreciators of art and design. The cover, by Chicago based Teagan White, features an intricate white and gold on black design incorporating characters and "oddities" threaded through foliage. Linocut works by Scandinavian Karin Rytter are scattered throughout the narrative.
The impressive art suitably accompanies the highly descriptive language and hefty content of this book. Oddity is not a formulaic, smashed out story. This book did not happen over night. It is finely crafted. Open at any page and read any sentence. It will be masterful.
Oddity is not for the faint-hearted or overly sensitive reader. It could be described as an alternate history/fantasy book. It is recognisably set against the backdrop of the 1800s in North America during the time of the Louisiana Purchase but it is also a fantastical other world. Springing loosely from real and sensitive historical events, a subverted world of ordinary objects possessing strange powers accompany the central character, thirteen year old Clover Elkin, as she simultaneously flees from her father's murderous killers and seeks her true identity, an understanding of her past and her true power and vocation.
Scenes are grisly and violent. Characters, even secondary characters are well fleshed out, interesting and often compellingly repulsive. Action is rapid. Clover moves very quickly from being a motherless child accompanying her physician father through the harsh poverty-struck borderlands to becoming a grief stricken orphan having to rely on her own wit for survival.
This is a complex story covering many themes, characters and subplots but no pieces fall away. All is cleverly held together. Clover has to find and destroy evil. She has to find her true power and self, taking on the healing power of her father with what she discovers of her mysterious mother and combining both to find what she is herself. The process of uncovering truths about her parents and about the past will resonate with all readers as maturity and learning uncover misconceptions about the world for all of us.
Oddity, like the Harry Potter series, like Lord of the rings, like Jack and the beanstalk, draws upon the fascination of objects with strange powers and of secret societies of collectors of various things. And these objects have powers that defy the natural order of things: a talking rooster is a brilliant military strategist, a rag doll has superstrength, a magic teapot pours never-ending tea (like our Australian cut-and come-again Magic Pudding) and undead roadkill is cobbled together with wire and junk by a seamstress witch to become malevolent vermin. Clover allies herself with a mixed bag of powerful companions on the way including a venomous Sweetwater Viper, a super-strong rag doll and a teenage confidence trickster.
Oddity is a coming of age story. It is a coming home story. It is a challenging, disquieting powerful read.
Themes: Environmental disaster, Identity, Grief, Agency, The Louisiana Purchase, First peoples, Oddities, Warfare.
Wendy Jeffrey