Nura and the immortal palace by M.T. Khan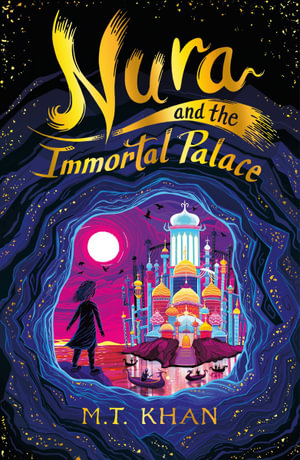 Nura and the Immortal Palace, written by M.T. Khan is a thought-provoking story, set in a fictional Pakistani town of Meerabagh. With a sense of truth and desolation of child labour, dangerous mining and families struggling to survive, this novel is layered with many confronting quandaries that will challenge most reader. Creatively woven with Muslim culture and traditions, along with the mysterious mythical world of jinn, this story is sure to keep you captivated until the very end.
Imagine being a twelve-year-old girl; dirty, starving and having to work each day clambering underground and then being paid pittance for your hard effort. This is the life that Nura faces each day, together with her lifelong friend Faisal.
Nura mines every day, hoping to find significant amounts of mica, to provide for her family. Her father died while working in the mines when she was seven, her mother works daily in a sweatshop and her three younger siblings stay home, hopeful to go to school when they are older. Yet, Nura has never been to school. She works tirelessly, looking to provide hope and happiness for her family and constantly dreaming of finding the Demon's Tongue - a legendary treasure buried deep in the mines, and one she believes will give her enough riches to finally break her family's cycle of poverty.
But when a tragic mining accident occurs, and Faisal is lost in the rubble, Nura seeks to find him. However, when she digs too deep and enters into the magical world of jinn, what will be the outcome? Will the legendary jinn's trickery be too dangerous to overcome, and what other truths will Nura discover along the way?
Khan has written a story layered with life inequalities and society's imbalances, while cleverly entwined within the magical world of fantasy. Join Nura on an intriguing adventure, and appreciate how she encapsulates strength and determination, while discovering some of life's truths.
Themes: Muslim culture and traditions, Child labour, Fantasy, Friendship, Family, Responsibilities, Mining mica.
Michelle O'Connell