Not-so-little Red Riding Hood by Michael Rosen. Illus. by David Melling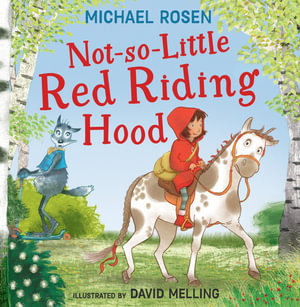 A wonderful remake of the perennial cautionary tale of Little Red Riding Hood and her brush with the Big Bad Wolf, is shown here with a modern twist as Red Riding Hood has grown somewhat and is wanting to stretch her wings by herself. She and Pebbles are invited on a picnic at Grandma's house and are promised a big surprise.
As they ride through the woods, both Pebbles and Red become a little more apprehensive. She sings a little song and the trees sing to her, offering surety. But Red sees ears jutting out behind a bush, is this the Big Bad wolf? Some noises seems close by, is this the Big Bad Wolf? Then she hears eating, could this be the Big Bad Wolf? At last they reach Grandma's house but there is no answer to Red's knocking. Peering through the letterbox she sees something in Grandma's bed which could be Grandma or it could be a wolf! Suddenly Grandma is behind her hugging her in welcome. And all is well and the surprise is in Grandma's bed.
A very funny take on Little Red Riding Hood, the tale is beautifully read by Michael Rosen and can be found at https://www.youtube.com/watch?v=3JYq00-03FE
His reading shows adults and older readers how to sing the verses by Red and the trees, and he demonstrates some other features including predicting a rhyming word, singing along with the tale, anticipating what happens next and simply laughing at the story.
Wonderful illustrations by David Melling place Red and Pebbles in the landscape as they travel through the dark wood, fearing the presence of the Big Bad Wolf. The looks on their faces are priceless as they get more worried the further they go along to Grandma's house; Pebbles' tail is a strong indicator of how the horse feels. A further series of laughs will be had when the readers look at the endpapers.
Themes: Red Riding Hood, Wolves, Grandmas, Cautionary tale.
Fran Knight