Nick by Michael Farris Smith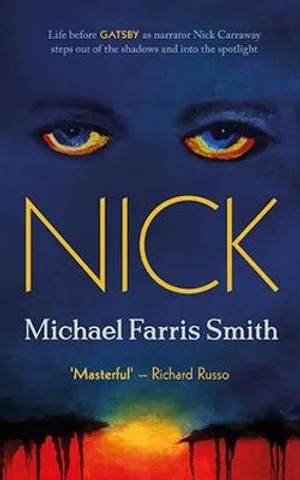 It has been many years since I read The Great Gatsby but the character Nick Carraway remains etched as the watcher, the one who is part of the essence of the story as the one who sees and narrates the excesses and social decline of the American dream amongst Gatsby's social circle, while remaining firmly fixed on the edge of this life. In this book, Michael Farris Smith has created the prequel to this confronting story as he reveals the backstory of Nick Carraway's life – a life that is scarred and hurt. Nick is portrayed as having survived the distressing childhood of living with a severely depressed mother and then trying to find his place in the world as an adult as the war breaks out. His war service, in combination with his passive personality, leaves him with psychological scars. A brief romantic interlude in France during the war adds to his wounds and there is more pain post-war as he struggles to find a place to anchor his life. A random choice takes him far from his parents in Minnesota to Frenchtown in New Orleans, into bars and brothels, and into the tortured life of another severely damaged war veteran. All along the journey to the shores of the lake that looks towards Gatsby's mansion, we become familiar with the way that Nick's life is moulded by powerful circumstances to create the man who watches in the margins and narrates The Great Gatsby.
This is an evocative journey and a powerful tale that is powerfully-written and reflective of the character of Nick Carraway – the man who watches the world. The journey into his pains and psychological suffering is compelling and insightful as he battles his inner passivity. There is immense power in giving Nick a backstory, and this book will be appreciated by those who have read The Great Gatsby. (This is better read after having read F Scott Fitzgerald's classic, and not before, as this would change understanding of the original Gatsby story.) Farris Smith has created a story that could stand on its own but the insight into Nick's life adds extra pathos and power.
Themes: World War II, PTSD, USA Culture - Post-war, The Great Gatsby.
Carolyn Hull