My summer with Grandad by Tom Tinn-Disbury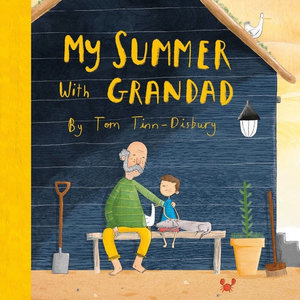 My Summer with Grandad is an entertaining story about Eric spending time with his Grandad. This is a holiday ritual and this is the year Eric will be finally allowed to go fishing on his Grandad's boat. However things do not go to plan and Eric is left disheartened. Grandad then gives Eric the job of being the Chief Seagull Shoo-er and Eric takes his new role very seriously. One day Eric and Grandad discover a baby seagull trapped in the net with a damaged wing. They take it home and Eric uses numbered steps to care for the chick and they become firm friends. Of course Eric realizes that the bird must go back to his family on the eighth step but surprise, surprise there is a ninth step still to come.
This a delightful story that will appeal to younger readers. The colourful detailed illustrations complement the text perfectly. Teacher's notes are available.
An enjoyable read.
Themes: Summer holidays, Fishing, Grandparents, Seagulls, Friendship.
Kathryn Beilby