My Peppa adventure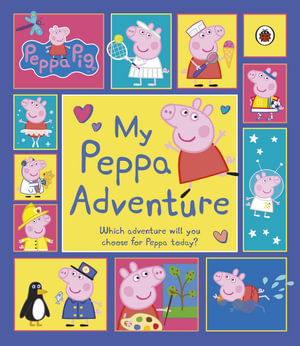 Little children who love Peppa Pig have the opportunity to look at the pictures on the pages of this book, and choose their own adventures for Peppa.The very detailed and highly coloured pages start with the reader choosing where they would like to go – to a desert, to mountains, on a train trip, underwater and so on, giving adults an opportunity to talk about many different environments with their youngster. On the next double page spread the reader chooses which of Peppa's family and friends to take on the adventure and from there the reader chooses what clothes to wear, what to eat and how to travel there, all making a story for the young child to decide on. Then there is a playground adventure and a choice of places to live, musical instruments to play, and a party and work adventure.
This is a great book to stimulate the imagination of young children and to extend their vocabularies, while giving them the opportunity to think about their preferences and make choices for themselves.
Themes: Making choices, Adventure.
Pat Pledger