My dad thinks he's super funny by Katrina Germein. Illus. by Tom Jellett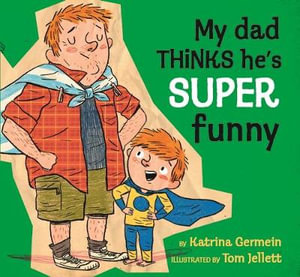 The family in My dad thinks he's funny, has grown. There is now a baby in the mix, which gives dad another layer of jokes to tell revolving around the new addition. Kids will groan as they read dad's hilarious offerings, delighted at the puns, but at the same time, sighing with embarrassment as the man tries so hard to be funny. And he has an endless supply. He can pun for Australia, making asides, quips and double entendres with words like mosquitoes and ants, spiders and worms, fans and paper plates. Nothing is outside his orbit for a play on words, as he seems to have a response or every occasion.
With the new baby in a sling across his chest, dad and the two boys go off to the supermarket, a storehouse of puns as he spies the biscuits and tells them not to take the plane ones as they might fly away, while he is pleased to meat the butcher, and says the bread is just loafing around. Nothing on the television, says one boy, but dad retorts, 'yes there is dust'.
All through the puns are funny and will appeal to the younger audience who will think up lots for themselves.
Jellett's hilarious illustrations, featuring dad in his shorts with hairy legs, falling down socks an old sneakers, will bring the house down. Kids will revel in the way the older man is featured, smiling at the similarities between their dad and the one represented.
He is a super dad: sharing the work needed around the home, taking the kids shopping, minding the baby, hanging out the washing, cooking tea, and on every page, caring for his kids. He wears a cape just like his younger son, eats with them at the table, meets their gran with them. He is a super dad, and is super funny, a charming model for families coming up to Father's Day.
Themes: Fathers, Fathers day, Families, Nurturing, Humour, Puns.
Fran Knight