Music for tigers by Michelle Kadarusman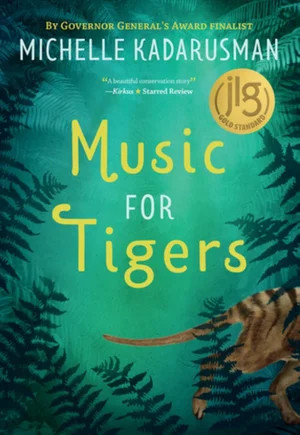 It's not easy being an aspiring violinist growing up in a family of Canadian conservationists. Before Louisa's uncle Ruff is evicted by developers, from his own slice of Tasmanian wilderness, the narrator agrees to travel to Australia for the summer. Nature must run in the blood, because it doesn't take much for Lou to adjust to the remote camp with scary Tasmanian spiders and critically endangered marsupials, despite fretting about practicing for a very important upcoming audition.
Louisa finds a friendly, if not neurodiverse guide and cook in Colin, who lives in the Eco village next door. Colin piques her curiosity, but it is her great grandmother's journal which unlocks the hefty conservation legacy handed to Uncle Ruff. Within days of her arrival, her Uncle's pet, the last Pig Footed Bandicoot, previously thought extinct, dies. Piggy's death hits Uncle Ruff hard. But according to Eleanor's journal, the family have kept more "black swans" close-by on Convict Rock. You'll have to read the book to learn about the Black Swan Theory.
Can Louisa learn to overcome her own anxiety in order to help her family protect a species believed to be extinct for nearly 100 years? Uncle Ruff, Mel, Colin and the local elders, have run out of ideas to lure "Tigers" to a new location for their ongoing protection. Louisa believes she has found a way using Eleanor's diary and her own talents.
Music for Tigers extolls a fictional ecological crisis, through the eyes of a Canadian. It is resplendent with sensory descriptions of our iconic and rugged Australian wilderness. Yet the writing is layered with myth and natural history, adolescent angst and diversity but above all, family and music.
Themes: Family, Adventure, Conservation.
Deborah Robins