Miimi Marraal Mother Earth by Melissa Greenwood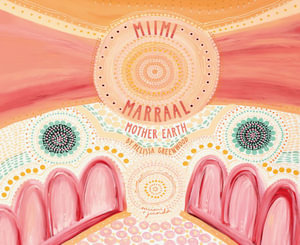 The stunning cover design of the picture book, Miimi Marraal Mother Earth, with its appealing illustration and tactile feel, will immediately draw the reader's attention to this beautiful story. Written for babies and very young children by Gumbaynggir storyteller, artist and designer Melissa Greenwood, the story tells of the deep connection First Nations Peoples have to Miimi Marraal (Mother Earth) from the moment of conception. Told in the first person of a mother talking to her baby, the story revolves around sharing the love and hope of a mother for her child as well as the connection to the land: how it provides for us, protects us and how we need to care for it. Simple yet expressive text is surrounded by vibrant illustrations in the spectacular palette of pinks, reds, browns, greens and blues. This striking new release would make the perfect gift for a new mother.
Further information about the author can be found at Miimi and Jiinda and here.
Themes: First Nations People, Storytelling, Babies, Family, Connection to Country.
Kathryn Beilby