Mia's Life Fan Takeover! by Mia Fizz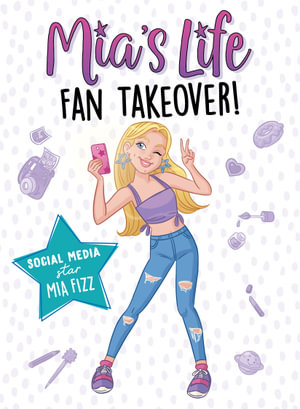 Fan Takeover is the first book in the new series Mia's life, written by Mia Fizz. Based on the life of the author Mia Fizz, this novel takes you behind the scenes of a real-life YouTuber and social media sensation who has millions of followers. Early on in the story, you discover that even though she obviously has this really high profile, she is actually just an ordinary girl with ordinary problems. Her cheerful and bubbly personality emanates throughout the story; creating easy connections and relatability for the readers.
The novel begins with Mia vlogging her fans about makeup tips. She gets a text reminder that it is her younger sister, Sienna's 9th birthday in a few days, and she hasn't bought a present. Knowing that it will be a virtual experience with the whole family videoing for followers to see, she needs to think of a great gift that her sister will love, and her fans will rate too! While contemplating this, Sienna interrupts her thinking and throws a curve ball that she should change her channel up a bit to keep her fans enthused. Now she has two problems to deal with! Will Mia be able to work out a way to keep her viewers entertained and at the same time get her little sister a great birthday present? Or will things get a little crazy along the way?
This book is written in a way that is an easy read and relatable to preadolescents who are interested in using social media. The story deals with many important issues that can arise while growing up, with great opportunities for learning points and reflections. An enjoyable and entertaining read with relevant and relatable information about staying internet safe, being true to yourself and keeping strong family and friendship connections. Mia is sure to win over even more fans and increase her follower numbers with this novel!
Themes: Internet safety, You-Tubing, Family, Friendship, Taking risks.
Michelle O'Connell