Maybe... by Chris Haughton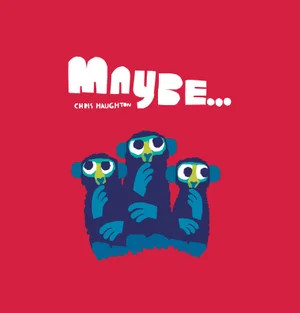 This is a clever and unique cautionary tale told entirely through the dialogue of three young monkeys and their adult monkey. A cheeky tone and the wonderful expression that is somehow miraculously conveyed through the very simple illustrations of the monkeys make this a really powerful and visually interesting story. "Ok, monkeys! I'm off", says big monkey. "Whatever you do, do NOT go down to the mango tree. There are tigers down there". Children will love predicting what is going to happen next and will absolutely be able to relate to the 'maybe we could just . . .' reasoning of the little monkeys. Children who stick to the rules and are more risk averse will be screaming at the monkeys: "Noooo! Don't go down there!", whereas risk takers will be eagerly anticipating whether they will be okay and how far they will go before the risk becomes too great. There is fantastic room for discussion here about risk, boundaries and following rules, but ultimately this is a very fun tale of adventure that will leave kids and adults laughing. And perhaps the big monkey is encouraging the risk taking behaviour somewhat, because as all adults know telling a child NOT to do something is definitely going to increase their determination! Indeed, the monkeys have learnt how to CAREFULLY go down to the mango tree as well as how to escape a tiger attack. Was this the plan all along?
Themes: Risk, Cautionary Tales.
Nicole Nelson