Love, Creekwood by Becky Albertalli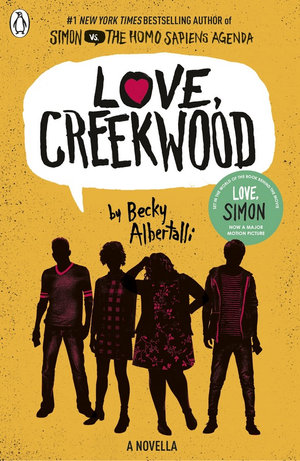 Simon vs. the Homo Sapiens Agenda, The Upside of Unrequited and Leah on the Offbeat took the YA world of fiction by storm with the focus on LGBT+ characters. This novella is definitely a must for fans of the Simonverse books and a satisfying conclusion to that series. A light enjoyable read for those who are unfamiliar with the other books although it could take a while to get the characters sorted as this short book is told entirely by emails. A bit like hacking a bunch of friends' accounts, we get a personal look at the relationships between the characters as they navigate the world after high school.
A more contemporary take on the concept of the epistolary book, this should resonate more strongly with the target audience (although this format is possibly already left behind by the preference for texts and social media). Using such a personal medium, there is an intimacy and immediacy with this book which enables the reader to follow the innermost thoughts and feelings of the characters. The physical side of the romances are discussed although there is nothing particularly in-depth or graphic, as we follow the friends' transition to college and adulthood, and the obstacles that this time of lives and distances involved place on their relationships. This novella may contrast well with other more established epistolary books.
Themes: LGBT+, Transitions, Relationships.
Gaye Howe