Little Owl's new friend by Debi Gliori. Illus. by Alison Brown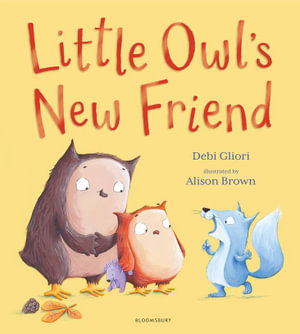 Another in the Little Owl series (Little Owl's egg, Little Owl's bedtime and Little Owl's bath time) will be welcomed by fans of the cute little owl. This time Little Owl is playing with Hedge his best friend and trying to get him to roar like a lion. Then Mummy Owl brings along Small Squirrel to play. Little Owl is not impressed and does not want to play with Small Squirrel, but Mummy tells him that she will feed the cinnamon buns that Small Squirrel has brought to the bears in the bushes. So off he goes, with Small Squirrel trailing behind him. Gradually Little Owl gets to know Small Squirrel who is very talkative and drags him off to hunt Snaffle-Worms. When Hush-Hush a ghost scares Small Squirrel Little Owl can protect her, and he begins to see how he could contribute to a new friendship.
The very cute illustrations by Alison Brown are delightful, full of bright and colourful images, and each character comes alive on the page. I loved the character of Small Squirrel, who talks so much. This is a personality type that children and adults will have come across and could be another point of discussion.
Making new friends can be fraught for some children and Little Owl's new friend is an ideal book for adults to share with children and discuss the issues surrounding friendship.
Themes: Friendship.
Pat Pledger