Little Nic's big world by Nic Naitanui. Illus. by Fatima Anaya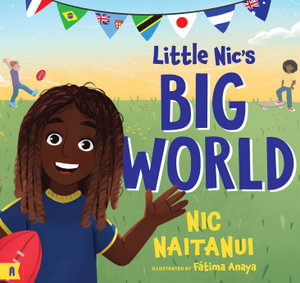 Little Nic's Big World is the second book written by well-known AFL West Coast Eagles footballer, Nic Naitanui, following Little Nic's big day. Once again, the author has created an entertaining read which celebrates the multi-cultural society that is Australia today. In this story, Nic's school is having a fete with the theme, 'The World Comes to Us.' Students are encouraged to bring and share traditions from their own home and away cultures and Nic, who comes from a Fijian background, has chosen to bring his Bubu's (grandmother) Cassava cake.
Before the fete begins Nic kicks the footy around with his friends and then rushes off to listen to the Acknowledgement of Country. Unfortunately, he leaves behind his backpack which contains the precious Cassava cake and spends time looking for it as it has disappeared. On his search for the missing backpack, Nic participates in a host of music, craft and sports from other cultures. The backpack is returned to Nic and his Cassava cake is very popular. The author has included a 'Can you find...' page at the back of the book with a list of items to search for. The colourful illustrations by Fatima Anaya are bright and bold and fill the page.
This highly engaging picture book with its clever rhyme will appeal to young readers. Little Nic's Big World shares an important message of how diverse our world is and how we can learn from each other's traditions.
Themes: Rhyming stories, Diversity, Multi-culturalism, Differences, School Fete.
Kathryn Beilby