Life in a hollow by David Gullan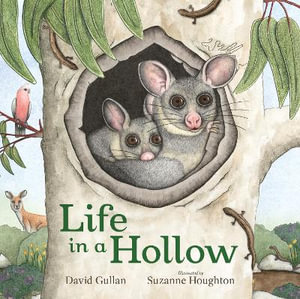 A beautiful book about the Australian bush will entice young readers to learn more of their surroundings and why hollows are so important. In rhyming pairs of lines Gullan tells the story of one hollow, a mere scratch in the side of a tree when a branch falls, then increasing in size as smaller animals then larger ones make it their home.
First to arrive are the longhorn beetles, who eat away at the hole, then fly away. Next the skinks make it their home, and when the weather subsides, they all leave.
The hole has now doubled in size and welcomes some yellow bellied bats. Here they can fly out and hunt, safe from cats. They then fly off. The hollow has increased in size, ready for new occupants. A pair of crimson rosellas move in, and make their nest. But when a third comes along, they must seek out something bigger. The now large hollow accommodates a brush tailed possum and her joey. They will leave when the joey is too large for the hollow, but there are many more animals waiting for a place to call home.
The panorama of animals shown in this book will reinforce the idea to younger readers about the importance of a home, in this case a tree hollow, to the animals. It can be a place to feed, a place to rest, somewhere to raise offspring, a place to nest or rest, and a place for shelter from the weather and other animals.
Wonderful illustrations by Suzanne Houghton grace the book, showing our stunning trees, magnificent array of animals and birds, and closeups of the hollow that is central to the lives of so many animals. I loved watching the increasing size of the hole, and the different animals calling it home.
At the end of the book is a page of information about tree hollows and over the page is a double page reprising information about all the animals depicted. An informative glossary rounds of this informative, elegant presentation of something in our environment which we see everyday but have little understanding of. Until now! Teacher notes are available.
Themes: Australian flora and fauna, Tree hollows, Home, Animal behaviour.
Fran Knight