Let's go! On a helicopter by Rosalyn Albert and Natalie Moore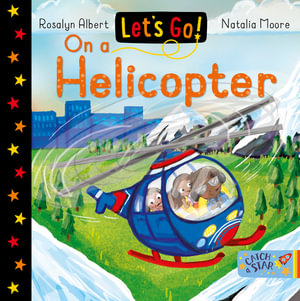 Another book in the Let's go! series, Let's go! On a helicopter will join On a train, On a tractor, On a plane, On a digger and On a submarine, all stories about transport suitable for toddlers who are interested in travel. In this hard cover board book, young children go whirring through the sky seeing all the sights. They soar into the air, wearing giant earmuffs and fly above the high buildings, over waves and even spy on spooky caves. Then they watch people skiing and making snowmen, finally landing on a helipad, and wishing that they had wings.
Bright peoples enhance the story and young readers will learn new vocabulary along the way. Words like 'bird's eye view', 'helipad', 'giant earmuffs' and 'rotor blades', will be repeated again and again in this rhyming story, as children discover just what seen be seen from a helicopter. An enjoyable expose of how a helicopter works, Let's go! On a helicopter is a fun story that toddlers will want to reread and is suitable for home and library.
Themes: Helicopters, Transport, Rhyming story, Board book.
Pat Pledger