Leilong the library bus by Julia Liu & Bei Lynn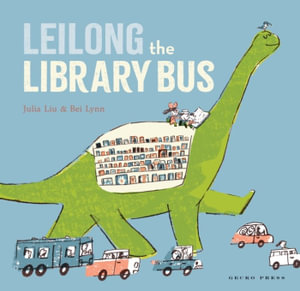 Gecko Press of New Zealand is an independent publishing house which focuses on carefully selecting, translating and publishing children's books from around the world. Leilong the library bus is a collaboration between two Taiwanese women: Julia Liu, author of many children's books and Bei Lynn, an award-winning artist. The book is translated into English, published by arrangement with Walker's Cultural Ltd/Pace Books through Bardon-Chinese Media Agency and sponsored by the Ministry of Culture, Republic of China (Taiwan).
Whether it is due to the translation or not, there is a quirkiness to this story. Leilong is a Brontosaurus. He has three friends - Max, Monty and Mo. Leilong loves the library and storytime. He becomes totally involved in stories and because of his size he doesn't fit in. A solution is found. The storyline is simple and narrated in third person. The lively dialogue between the characters would lend Leilong the library bus well to being read aloud. 
The illustrations are cartoon-like and full of detail which invites time to be spent looking at all the different people depicted on each page.  Many people and animals can be spotted reacting to the strange vision of a Brontosaurus transporting children and books around a busy city. The changing, very human emotions of Leilong are beautifully depicted as he moves from delighted expectation to confusion on his rejection to contentment and happiness on his inclusion and acceptance.
A sweet story with fun illustrations! Teacher's notes are available.
Themes: Love of libraries and books, Dinosaurs, storytime.
Wendy Jeffrey