Lego City: Police Patrol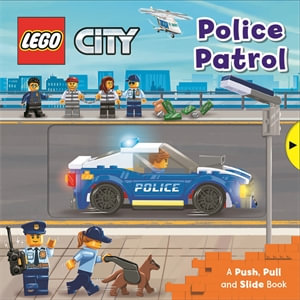 A push, pull and slide book, Police Patrol is a winner for young children who are interested in adventure and policing, as well as having lots of fun vehicles to examine. When the City Bank is robbed it is up to the Police Patrol to go to the rescue and capture the robbers. Right from the front cover, the young reader is drawn into the action with a flap that pulls out revealing two police officers on motor bikes and a police car. Turning the page, a robber is seen climbing a ladder while the police get to work. There is also a chance for readers to answer a question about the number of police bikes in the picture, as well as pushing a police officer up and down in an escalator. On the next double page spread a helicopter appears in the sky guiding the police who are following the robbers, and once again the reader must answer a question and find where a robber is hiding. Another page has a push tab that makes the police lights turn on and the final page sees the robbers in goal.
The many ways of manipulating the colourful pictures are sure to delight a young child and the story is exciting and gives insights into police procedures, vehicles and personnel. No doubt this will stimulate some building of different objects out of Lego blocks.
Themes: Police, Vehicles, Robberies.
Pat Pledger