King of battle and blood by Scarlett St. Clair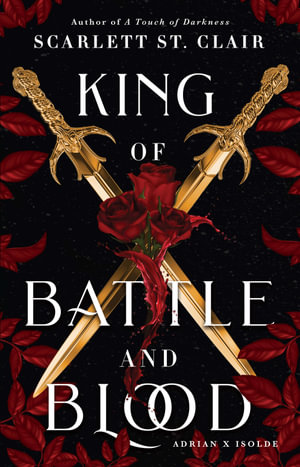 Princess Isolde of Lara is fierce, independent and fine being unmarried at 26 years old. Preferring to ride, fight and protect her people, she is not concerned with pretty dresses and being a lady. While she thought she might marry one day, she had begun to view her future as queen as a solo affair, requiring no king. That is, until her father surrenders to the Blood King. Somehow she becomes engaged to the Blood King, Adrian, the most feared vampire in their world, who is slowly conquering all the nations of Cordova through vicious battles, with his army of undead. But maybe her getting close to Adrian will be beneficial, perhaps she'll succeed in ending his reign. That is, until she realises that her intense attraction to him leaves little room for assassination attempts. And there's something going on in the Cordova, something sinister...
Definitely a book for older readers, this paranormal fantasy is full of action, sex, swearing and high strung emotion. This fantasy world has been well created by Scarlett St. Clair, full of paranormal monsters and idyllic fantasy scenery. The first of a new series, Adrian x Isolde, the author has created an interesting thread that will be continued throughout the series - the right amount of intrigue to get readers hooked. Fantastically paced, the story has the right ebb and flow for readers to be able to pick up where they left off easily. As graphic sex scenes occur frequently through the book, along with regular swearing, the book should be in senior fiction, or restricted to older readers. Ideal for fans of Sarah J Maas' series Court of Thorns and Roses.
Themes: Paranormal, Vampires, Fantasy, Enemies to Lovers, War, Kings and Queens, Revenge.
Melanie Phillips