Kate on the case by Hannah Peck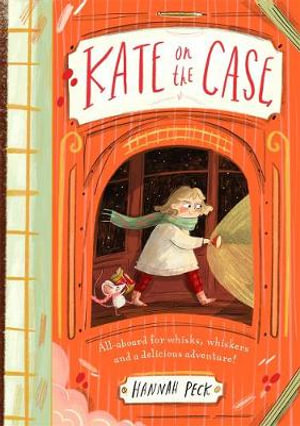 As the title suggests Kate is a young amateur sleuth. She is on a train journey with her father and her pet mouse Rodney to meet her mother who is studying Arctic seaweed.
Kate takes her detective work very seriously and is inspired by her idol Catherine Rodriguez, and excerpts of Catherine's advice are included in the novel.
Not long into the train trip it becomes apparent that many odd items are being stolen, gingernut biscuits, gymnastics trophies and ancient scrolls. Kate is very suspicious of cranky Madame Maude who is onboard the train with her cantankerous cat.
Is Madam Maude the culprit and how will Kate discover the truth?
The quirky ending was a surprise for me and I suspect every other reader too.
The novel has a vivid appealing cover and the text is accompanied by the many orange and black illustrations.
This is a fun story with a crime to solve and will be enjoyed by 7- to 10-year-olds.
Themes: Detectives, Mice, Reporters, Trains, Journalists.
Jane Moore