Instructions for a teenage Armageddon by Rosie Day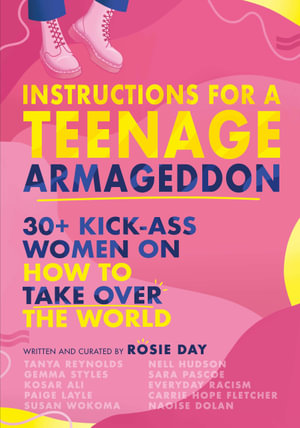 Rosie Day is an actor, director and writer. She is only in her twenties and as a child actor has appeared in numerous well known British films and TV series. In lockdown she began writing a one girl play with the same title and it had a good season. It was suggested that she could run a podcast empowering teenage girls but then this idea turned into a book.
The work is a call to arms, as the title suggests, with Rosie Day introducing the subject, before including letters, comments, observations and advice from a large number of contributors, including doctors, psychologists, actors and activists. Lively illustrations in graphic comic style add to the appeal of course. Each of the 5 sections, addressing a range of topics from mental health, friendships, relationships, families, consent and boundaries, is rounded off with 10 Top Tips which relate, for example, to mental health and stress. Lists of online resources and references are included at end of the book; keeping in mind though, that this is an English publication and the contributors largely unknown to us. The subject is universal however and the book timely, as our attention is so often drawn to student well-being, the impact of social media and the dramatic rise in teenage sexual assault and suicide. It is a book which recognises the challenges for teenage girls and acknowledges the confusion and difficulties of these years, but it is full of good advice and reassurances; a book all about protecting mental health.
Best of all, it is appealing, interesting, positive and modern - a far cry from the usual self-help book. It is a book to inspire, a book for girls to read and realise their potential to bring about change. The writer says that she would love to write a version for boys with male contributors; her work with a teenage mental health charity could make this work too.
Themes: Mental health.
Julie Wells