Impossible creatures by Katherine Rundell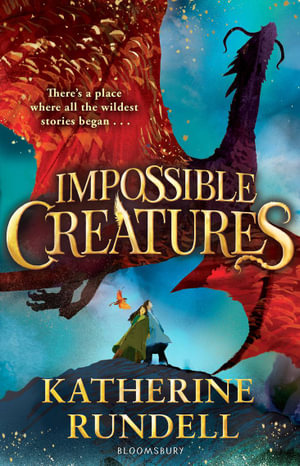 Impossible Creatures is a book that will stay with the reader long after it has been finished and shared with their friends.
Katherine Rundell is a true storyteller and this book did not disappoint, in fact it blew me away. The story begins in two places, written by the two protagonists, Christopher who is visiting his grandfather in the Scottish highlands and Mal, who lives in a hidden Archipelago, where sphinxes hold secrets and centaurs do murder. When the two meet in Christopher's world they must embark on a journey that will see them face the future together if they are to overcome a murderer pursuing Mal, the loss of her world and the quest for ultimate power and greed.
Along the way they meet an array of characters who help and hinder them but they realise they are stronger together and fight to save both of their worlds against almost impossible odds. Mal is a brave, dynamic girl who has lost everything, while Christopher is kindhearted and has always been an empath with animals, much to the annoyance of his father.
This story will captivate its reader and they will be left wanting and waiting for the next two books in the trilogy. It is a story that is hard to define in terms of genre and age range but fits with the Narnia series and His Dark Materials in terms of action, adventure and the grim realities of life. Younger readers would benefit from having this read with them so that they can talk about some of the harsher storylines and I would recommend that parents are aware of the story before letting their younger readers start.
This is a book that will appeal to the upper primary, early secondary readers of fantasy and relationship stories. It is a book that will be a favourite read for some and push others out of their comfort zone. I would hesitate to use this as a read aloud or class novel as some readers will need time to process some aspects of the story and this shouldn't be rushed.
Themes: Fantasy, Friendship, Mystical creatures/mythology, Death, Destruction, Greed, Quest for ultimate power.
Mhairi Alcorn