I wish I had a wookiee and other poems for our galaxy by Ian Doescher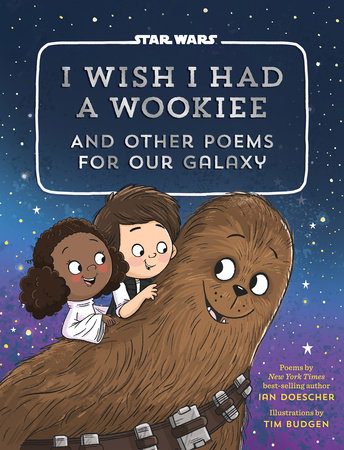 Young fans of Star Wars will love this newly published book of poems. It is cleverly written and explores all aspects of this much-loved movie phenomena related to everyday life. The poems are all about children who interact with numerous characters, objects and settings. For example, the following poem is titled 'Star Barber':
In the Star Wars galaxy,
When a barber cuts your hair,
Does she use a razor with
A little lightsaber in there?
Some of the poems encourage children to be or do their best like the one called 'Role Model' where young Sophie wants to be like Mon Mothma and knows she will have to work hard at it. The poem named 'The Fetts' has a message about good and evil and mentions that Jango and Boba may not be all that bad and 'sometimes they must have just been a kid and his dad.' Another poem with a thoughtful message is the lovely, 'A Galaxy of Families' where the final verse says:
All families don't look the same.
What types can you think of?
The galaxy has many kinds-
Their common theme is love.
The illustrations by Tim Budgeon are beautifully drawn in tones of black and grey with a single pop of colour. This book would make a perfect Christmas gift for Star Wars obsessed children and is a brilliantly creative way of encouraging younger readers to read poetry.
Themes: Poetry, Humour, Children, Star Wars.
Kathryn Beilby