House of Hollow by Krystal Sutherland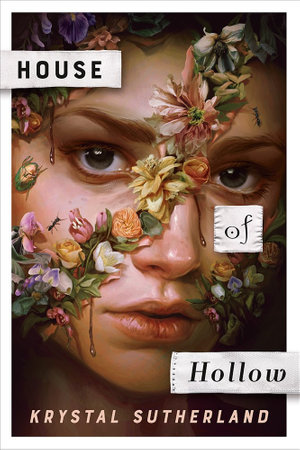 Iris Hollow and her two older sisters are unquestionably strange. Ever since they disappeared on a suburban street in Scotland as children only to return a month later with no memory of what happened to them, eerie occurrences seem to follow them. And they're changing. First, their dark hair turned white. Then, their blue eyes slowly turned black. They have insatiable appetites yet never gain weight. People find them disturbingly intoxicating, unbearably beautiful and inexplicably dangerous.
But now, ten years later, seventeen-year-old Iris Hollow is doing all she can to fit in and graduate high school – something her two famously world-travelling older sisters, Grey and Vivi, never managed to do. But when Grey goes missing without a trace, leaving behind bizarre clues, Iris and Vivi are left to piece it together. They aren't the only ones looking for her though. As they brush against the supernatural they realise that the story they've been told about their past is unravelling and the world that returned them seemingly unharmed ten years ago, might just be calling them home.
I absolutely inhaled this book. It was dark, eerie and at times made my skin crawl. Krystal's writing had me captivated from the very first page. Her description of the scenery was so on point I could almost see/smell/feel what she was writing about. The mystery of the three sisters was completely unpredictable and I had to stop myself from skim reading to find out exactly what happened to them as children!
I was creeped out, I was sad, I was tense and I was thrilled reading this book. Highly recommended to anyone who would love a good fairy-talesque, creepy, eery and dark novel that will have you avoiding abandoned doorways for all of eternity.
TW: blood, gore, violence, murder, attempted murder, death, death of a loved one, self-harm, suicide, body horror, attempted sexual assault.
Themes: Death, Family Relations, Guilt, Horror, Identity, Memory, Supernatural.
Emily Feetham