Here's to us by Becky Albertalli and Adam Silvera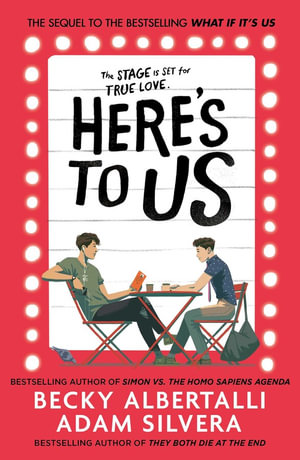 The characters in this teen romance are so likeable and so believable that once started it is hard to put this book down. I hadn't read the previous novel What if it's us, but I understood that Ben and Arthur had found each other after various mishaps, became bonded, but then because their lives were taking different directions, and a long-distance relationship wasn't viable, agreed to part. The sequel picks up a few years later, with Arthur in a tentative relationship with quiet cautious Mikey, and Ben enjoying his time with flamboyant fun-loving Mario. But when Arthur and Ben meet again things become complicated. Are their feelings just that of old friends, or could it actually be true love?
This novel is a collaboration between two well-known writers of young adult fiction, Becky Albertalli and Adam Silvera, with alternate chapters written from the point of view of each of the main characters. Perhaps readers familiar with their work will recognise each voice. It is an interesting approach and it definitely works! We get to know and empathise with Arthur and Ben, and their inner feelings and doubts.
Another good thing about the writing is that the other love interests, Mikey and Mario, are equally interesting and draw our sympathy. We care about what happens to them. Mikey's story is particularly poignant. He is a vulnerable young person who really tries his best in the relationship and sadly is destined to suffer.
The extended friendship group is also very realistically depicted and one can't help but love crazy Dylan, a friend to both Arthur and Ben.
I'm sure this book will be as much a hit as its predecessor. It is just such a genuine depiction of young love and angst, working out what is the right thing to do, and making decisions about future directions – a difficult time that many young readers will identify with.
Themes: LGBQTI+, Romance, Arts career.
Helen Eddy