Harry Potter:The broom collection by Jody Revenson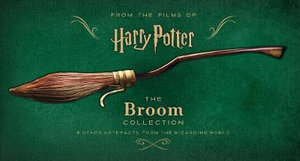 The Broom Collection and Other Artefacts from the Wizarding World is a beautifully presented companion to The Wand Collection in which all the magical wands used by each character in the ever-popular Harry Potter movies were profiled in a visually stunning book. This next book is just as appealing and discusses enchanted broomsticks, the characters who ride them and their creators. For example, Alastor 'Mad-Eye' Moody's broom was designed by concept artist Adam Brockbank who was inspired by Moody's 'gun-slinger-style' coat and wanted an Easy Rider look for the broom. It has a seat plus legs forward to look like a motorcycle. Draco Malfoy rides a jet-black Nimbus 2001 with a straight handle and a snake-like tip. The foot pedals on this broom are similar to a bicycle.
The book begins with a Contents page and leads in with a brief introduction about brooms followed by a detailed chapter about Brooms in the Wizarding World where the reader is able to learn about the process for the construction and usage of the brooms throughout the books and movies. In each chapter individual brooms are described as well as other interesting facts about all aspects of Quidditch. There are also captivating facts about brooms assisting the main charades in escaping danger and information from behind the scenes from some of the cast and crew. Towards the end of the book are the blueprints for the brooms and a detailed and cleverly presented broom index.
The Broom Collection would make a wonderful addition to the library shelves of Harry Potter fans world-wide and a welcome addition for new readers to gain a rich understanding into the world of wizardry.
Themes: Harry Potter, Wizards, Quidditch, Brooms.
Kathryn Beilby