Harry Potter: Friends and foes: A movie scrapbook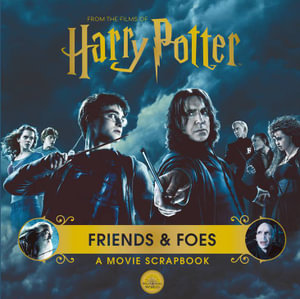 Fans of the Harry Potter books and the Harry Potter films will be thrilled with this movie scrapbook that shows friends and foes as well as some characters that could fit into either category.
The Contents page gives an introduction, and then the three categories: Friends, Foes and Friend or foe? Fans will immediately recognise the friends, starting with Ron Weasley. There is a profile, some background on the real-life friendship of Harry and Ron and some photographs from scenes from the films. This format is repeated throughout the book. The Friends pages contain information about Hermione Granger, Neville Longbottom, and many others, while the foes include Voldemort, Dolores Umbridge, Lucius and Narcissa Malfoy and Bellatrix Lestrange. Severus Snape and Alastor 'Mad-Eye' Moody are among the friend or foe group.
As well as the fascinating information and gorgeous photographs, readers will get a glimpse of how the characters developed over the series, with interesting little sections that make for great reading. In addition, there are stickers, posters, and postcards that fans and collectors will love.
Beautifully produced, this hard back book will be a boon for fans and a perfect gift for lovers of the Harry Potter books and films. It is a perfect companion to Harry Potter - Magical creatures: A Movie Scrapbook.
Themes: Harry Potter, Films.
Pat Pledger