Great big softie by Kaye Baillie and Shane McG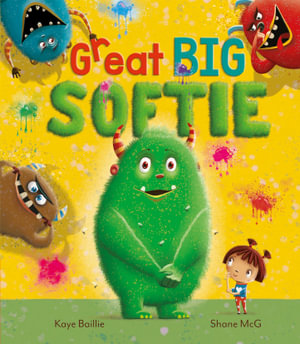 Elliot, a monster with a great big soft heart, is desperate to fit in with the other more mischievous monsters. Those monsters cause mayhem amongst the people in the neighbourhood, so Elliot decides to join them. He trashes a shop, eats all the churros from a fast-food van, causes the swimming pool to be closed for the day and frightens a little girl with a huge growl. Elliot's monster friends award him Monster of the Week for his dastardly deeds, but Elliot does not feel at all comfortable with what he has done and decides to make amends. He goes to the little girl's house and returns her missing turtle. It is not enough though, so he bravely apologises to the little girl and the other people he has upset - his most daring deed ever. Elliot realises that belonging to a group needs to feel right and he learns a valuable life lesson about respect.
The engaging illustrations in this book are bright and colourful with diverse characters.
Themes: Monsters, Mischief, Belonging, Respect, Saying sorry.
Kathryn Beilby