Goodnight, little Panda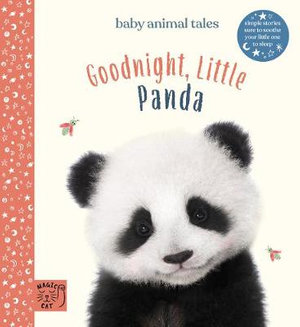 Similar in concept to the Ten Minutes to Bed... series, Goodnight, Little Panda is one in a series of simple bedtime stories designed to send little ones off to sleep. The longish, nonemphatic text is notable for its predictable storyline and calm tone. Sweet, earthy, watercolour art is punctuated with photographic illustrations of a baby panda hunting for something tasty to eat before bed. She has had bamboo for breakfast and bamboo for lunch and she really wants something different for dinner. "Have you got anything nice to eat?" she inquires of the monkeys. But the lichen they suggest is icky and sticky and Little Panda doesn't like it at all. The seeds suggested by the birds are too itty and bitty and the worms suggested by the frog are much too slithery and slimy. The problem is resolved by the red panda, whose suggestion of bamboo really is the best one!
This is a gentle and soothing story that ends with Little Panda settling down for a lovely long snooze. This peaceful ending and simple, flowing language makes it perfect for bedtime or nap time.
Themes: Bedtime, Pandas.
Nicole Nelson