Goodnight, little Monkey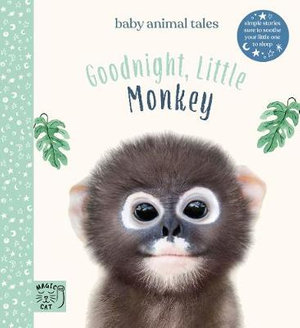 Similar in concept to the Ten Minutes to Bed... series, Goodnight, Little Monkey is one in a series of simple bedtime stories designed to send little ones off to sleep. The longish text is notable for its predictable storyline and calm tone. As with others in the series, Goodnight, Little Monkey makes use of everyday events, so will be relatable for young children without causing too much bedtime excitment. Sweet, earthy, watercolour art is punctuated with photographic illustrations of a baby monkey playing with his friends before bed. Whatever game Little Monkey is playing he always wants to be the best: "Look at me, look at me!", he keeps saying. But Little Monkey is so busy showing off and boasting about what he can do that he falls from a high branch. Luckily, his friends are there to catch him and Little Monkey feels very silly. "I was trying to be the best at everything. But I wasn't the best at being a good friend", he says.
This is a gentle and soothing story that ends with Little Monkey settling down for a lovely long snooze. This peaceful ending and simple, flowing language make it perfect for bedtime or nap time.
Themes: Monkeys, Friendship, Winning.
Nicole Nelson