Gigantic by Rob Biddulph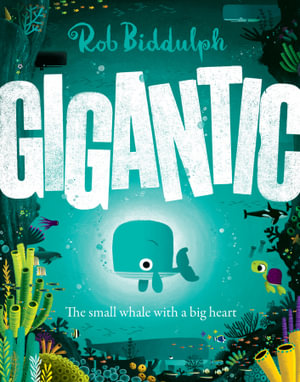 Gigantic the blue whale does not live up to his name. He is much smaller than his brother, Titan and his friends Colossus and Hulk. They deride him for his lack of size and tell him to make friends with Myrtle, the turtle. This he does and they hang out together, doing lots of swims and dives, Gigantic doing a marvellous tail spin. Titan's friends are impressed and say so, so Titan not to be outdone, attempts one as well. His friends call out that he cannot do it in the bay as it is too shallow. But he takes no heed. And he gets stuck.
Gigantic comes to his rescue. He gets all of the small fish to form a line and together they pull Titan out of his predicament.
Now all the fish, large and small are friends, because it matters not how big you are, the thing that matters is the size of your heart.
This is a wonderful positive look at relationships between siblings and friends, particularly peers of different ages. Titan, Colossus and Hulk all deride and tease Gigantic because of his lack of size. Their bullying of Gigantic will be readily recognised by all readers who are able to spot it and call it out. Older readers and adults will be able to guide the students into discussions about why this is bullying and what the results are for the bullied. In this book all ends happily as Gigantic is able to show his heart is much bigger than those round him. He ignores the taunts, able to be friendly with Myrtle despite the comments by the others.
You can watch a reading of the first part of the book by the author here.
And take note of the wonderful illustrations. Readers will love spying the little animals hidden in the seaweed forests, and the bigger ones as well. The shades of blue intrigued me giving different aspects of the sea in the tale. And the endpapers are equally enthralling, including a QR code link to Rob Bidduph's lessons on drawing the whale, which I am sure every reader will try.
Themes: Whales, Bullying, Size, Support, Friendship.
Fran Knight