Game changer by Neal Shusterman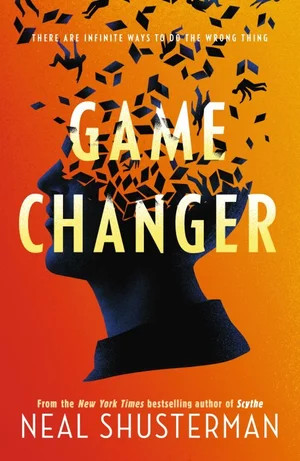 Ash Bowman is your regular, every day guy, linebacker on his high school football team. Then something changes, when the tackles and hits on the field start causing universe shifts. Ash questions himself and the world he thought he knew as the shifts bring about changes he could never have imagined.
I've never read anything written by Neal Shusterman before, and I found his writing style descriptive and realistic. Readers will be quickly emerged in the story, following Ash through each universe changing shift, learning more about his own privilege and the issues that his friends face. As a science fiction book, it's not too heavy on the sci-fi, just enough to explain the workings of the 'jumps' and the impacts experienced by Ash (and those in his life). Shusterman has written relatable and real characters, who also experience changes throughout the jumps. Ash is surrounded by a variety of characters - including ones you hate, ones you wish would be better and ones that prove they are true friends. The book looks at how the world would be now if certain historical events (revolving around activism, segregation/integration and justice) had not occurred. Shusterman takes readers all over hard hitting issues: race and racism; gender and sexism; LGBTQIA+ acceptance; privilege and consequences of actions based on said privilege (or lack thereof). While Shusterman has created a sci-fi that looks at the issues that are relevant today - society's expectations of gender, restrictions and prejudices placed on minorities, and the battle for acceptance and equality, sadly the book doesn't delve deeply enough into the issues to enact profound change for the reader - this is something the reader will need to take upon themselves.
Themes: Science Fiction, Relationships, Racism, Privilege, LGBTQI+, Consequences, Sexism.
Melanie Phillips