Fluff: Bullies beware! by Matt Stanton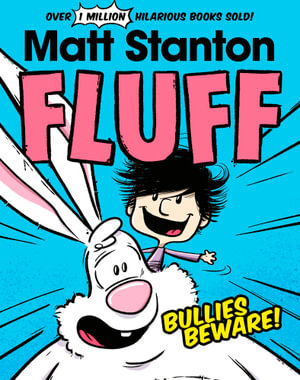 What a brilliant book by the amazing Matt Stanton. I was expecting this to be a bit of lighthearted "fluff", but instead I read a book about dealing with bullies. Matt Stanton has delivered a book that will resonate with children and their fluffy protectors.
When Gilbert's underpants are hung from the school gate and around his neighborhood by Carl the school bully, he decides that revenge is needed, after all the bully needs to be taught a lesson. Together, with his best and fluffiest friend, Fluff, Gilbert plots his revenge and what follows is a series of ill-advised revenge plans enacted by Gilbert and Carl until a truck load of Parmesan cheese is dumped on a caravan.
Gilbert's mum has faith that he will work this out and solve the problem, no intervention by the mum occurs and Gilbert must resolve this himself.
This book is a great look at bullies, revenge, and the power of "not feeding the turtle". It will become a family favourite with its easy-to-read story and its fast-paced action. Gilbert's underdog status will appeal to the reader and Fluff and Gilbert's goldfish add a comedic dialogue that keeps the story moving and the reader laughing.
This is a book that would be great as a book for a newly independent reader but also as a class read aloud, I am sure that students will be wanting to hear about the escapades of Gilbert, Fluff and the bully, Carl. It is also a great way to talk about bullying and the fact that there will always be bullies and people who are mean for one reason or another, but that revenge might not always be the best option.
I am really looking forward to Book 2 in this series as I can see it becoming a favourite with parents, teachers, and young readers.
Themes: Friendship, Bullying, Revenge, School stories.
Mhairi Alcorn