Eric Carle's Twinkle, Twinkle, Little Star and other nursery rhymes by Eric Carle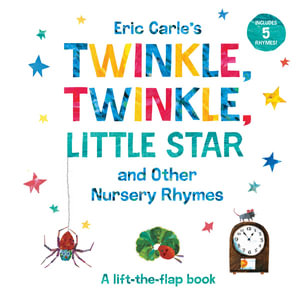 Any book that features the very hungry caterpillar is sure to be a hit with young children, and Eric Carle's Twinkle, twinkle, little star is no exception. This is a sturdy board book that will withstand many readings and lifting of the flaps by its young audience.
Turning to the first double page spread, the young child will find the Twinkle, twinkle, little star rhyme in bold print with the hungry caterpillar perched on a leaf. The other page is gorgeously illustrated with a deep blue sky, stars scattered around and insects on a leaf. Then there is the lift the flap that reveals the words How I wonder what you are! The next double page spread reveals the song Old MacDonald had a farm and there is a red barn with a cow hiding behind the flap and the words Old MacDonald had a farm, EIEIO repeated on it. Other familiar nursery rhymes include Hickory, dickory, dock, Itsy bitsy spider and The wheels on the bus go round and round.
This is definitely a book for any young fan of the very hungry caterpillar as they will love finding the caterpillar on each set of illustrations, and it is a lovely introduction to very popular nursery rhymes and songs. My little grandson loved the book and has enjoyed singing the songs as he goes for a walk in his pusher.
Themes: Nursery rhymes, Songs.
Pat Pledger