Enola Holmes and the black barouche by Nancy Springer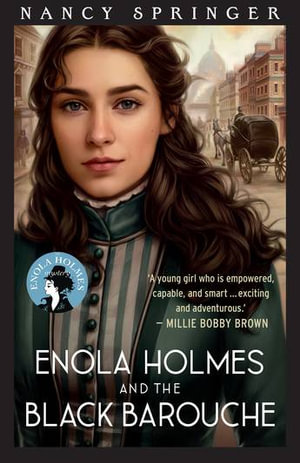 American author Nancy Springer is back with Enola Holmes and the Black Barouche, adding to the growing popular Enola Holmes series of books that now span a decade of publication. These books have been adapted to the screen and Enola Holmes can now be viewed on Netflix.
The central character Enola (Alone spelt backwards) is the feisty and independent teen sister of the famous super-sleuth Sherlock Holmes. Her speciality is missing persons investigations. Enola lives alone in rooms rented in the Professional Women's Club in London. She works in concert with her brother at times but keeps ahead of him most of the time. Springer evokes through language, costume and setting the atmosphere and society of the Victorian era of London. The social and personal expectations of women of the times is not a handicap to Enola. Rather she uses fashion as performativ e- very much a part of her presentation and game. She conforms beautifully outwardly and can, like a chameleon, manage any social situation. Her life is one of strength and action.The language is beautiful upper crust English at its best and most fun and the wit of the conversations is quick and dry. The story is told in first person through Enola herself.
In Enola Holmes and the Black Barouche, Enola is presented with the problem of the missing twin sister of Miss Letitia Glover. Letitia's sister, Lady Felicity (Flossie) was married to the handsome and arrogant Earl of Dunhench and, like his previous wife, has suddenly died of a "sudden and virulent disease" and also, like his previous wife, been rapidly cremated. This is all very suspicious. The death certificate was not signed by their friend Dr Watson at all but seems to be a forgery of his signature. Enola, along with Letitia and her old friend the young Viscount Tewkesbury, Marquess of Basilwether conspire to find out the truth. Dangerous, exuberant sleuth work begins. Hilarious things happen involving amongst other things the misbehaviour of crazy hired hacks and fantastic disguises. Much time is spent sleuthing in dark gardens, crumbling country mansions, asylums for the insane and country inns of doubtful reputation and driving in horse-drawn conveyances of many styles accompanied by coachmen or alone. Enola flits from the drawing rooms of the Victorian landed gentry to the lowest country inns and Victorian madhouses where wealthy men could lock their wives away with the flimsiest of excuses.
Enola is a young, capable and smart girl of her time. She never falters and never gives up as she supports her friends. Tension remains high throughout the story as our intrepid heroine unravels a sinister crime.
A great read. Addictive for lovers of crime fiction.
Themes: Detectives - Sherlock and Enola Holmes, London, Missing persons investigations, Victorian England.
Wendy Jeffrey