Elmer and the bedtime story by David McKee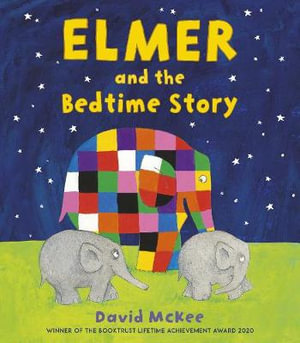 Elmer the colourful patchwork elephant returns in another exquisitely illustrated story. This time Elmer has been asked to babysit two little elephants. Their mother is returning late so Elmer must put them to sleep. Mum advises Elmer to read them a story as that will do it. Elmer decides that taking a tiring walk would do it just as well and off he goes, meeting many other animals who are babysitting as well. They all recommend that the baby elephants will go to sleep if told a story, each recommending one. Mum suggests the one about the flying carpet; Lion suggests the story about the magic biscuit, while crocodile thinks the one about the monster who lost his shadow would do the trick. Monkey thinks the one about the echo is good and the young rabbit thinks the one about the invisible teddy bear would do. By this time Elmer is tired and is sure the walk will put the children to sleep but when he gets home, they want a story. He starts with 'Once upon a time … there were two brave elephants …' and all were asleep before he finishes.
What fun for children to make up their own stories to tell the baby animals, providing teachers and caregivers the perfect opportunity to get children's imaginations working, telling, or writing their own bedtime stories. The illustrations are so bright and colourful, the faces on the animals so happy and cute, and the surroundings on the walk so appealing, that Elmer and the bedtime story is sure to become a family favourite.
Readers new to the many books about Elmer (Elmer and the bedtime story is the 29th in the series), will want to read more about this multi-coloured elephant, and could try Elmer the elephant, Elmer's birthday, celebrating 30 years of Elmer, and Elmer and the race.
Themes: Elephants, Bedtime, Storytelling.
Pat Pledger