Earth's aquarium by Alexander Kaufman. Illus. by Mariana Rodrigues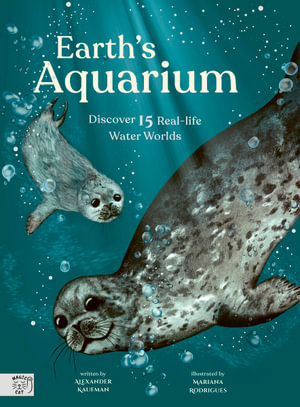 Earth's Aquarium is a stunning over-sized reference book which gives an amazing insight to fifteen natural aquatic aquariums from around the world. The foreword by Will Millard gives a passionate plea for understanding our water environments and the pressing need to change how we look after them. The contents page clearly labels each section and the opening chapter, Variables in Aquatic Habitats, explains the components of water life such as waves, currents, tides, acidity as well light penetration. Included in the fifteen natural aquariums are the following: mudflats, mangrove forests, estuaries, kelp forests, seagrass meadows, coral reefs, oyster reefs, open water, sea ice, salt marshes, slow and fast-moving fresh water, wetlands, vents and seeps and deep water. Each water habitat focuses on one particular place and importantly the coral reef chapter discusses Australia's Great Barrier Reef. Delving deeper into each environment is quite a remarkable journey for the reader.
The first of two double pages within each chapter are devoted to a visually impressive pictorial display of creatures found in that habitat. Underneath is information about the area as well as the dangers presented by humans and climate change. The following double page clearly identifies each creature inhabitant from the previous page and gives other important information about this particular environment. At the end of the book is a very detailed index as well as a sources page. The illustrations in this book are really quite striking and will engage the reader time and time again. The cover is a delight with foil inserts which will add to the appeal of the book for readers of all ages.
Themes: Water environments, Global habitats, Natural aquariums, Ecosystems, Aquatic life, Climate change.
Kathryn Beilby