The darkest evening by Ann Cleeves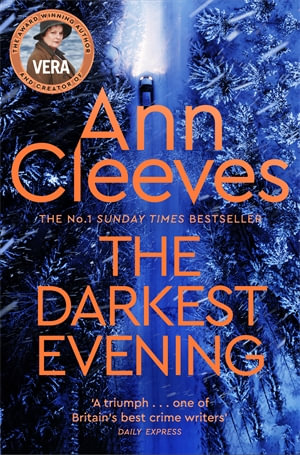 DS Vera Stanhope strides confidently through Ann Cleeves' novels, taking charge, nutting things out, catching the killer, and this one, the ninth in the series is no different, except for the creeping thoughts about her past and the niggle of a small child that she thinks may be related to her, prompting a feeling not usually felt in her bones. But bones are chilled throughout this novel, set in the cold, blustery, snow filled days before Christmas, when Vera, taking a wrong turn during a blizzard, happens upon an abandoned car, a small child still strapped in its seat, the door left open to the wild weather.
She takes the child to the nearest house, Brockburn, a manor house where her father, Hector grew up, leaving under a cloud years before, leaving the family estranged.
Her frosty reception is tempered by the local farmer coming in to report a body out there in the cold, and police procedure moves into top gear. Vera's cousin, Harriet lives with her daughter Juliet and her husband Mark, an arts director from Newcastle. The house is in disrepair and he is holding a party to encourage local moneyed people to invest in a scheme to revitalise both the house and the arts industry in the region. The guests make an interesting clutch of people for the team to interview and check. But it is the people living nearby that pique Vera's interest: the tenant farmer and his wife, parents of the dead girl, the housekeeper, former lawyer Dorothy and her husband living in one of the estate cottages, while in the nearby village where Lorna lived with her baby, her mentor, Constance Browne, has disappeared. And over all the question of just who the father of the homeless child night be, brings up all manner of consequences to mull over.
A page turner, the character of Vera is a triumph, a many layered police officer, sure of herself, but with niggles of 'what ifs' occupying her few spare minutes, she never ceases to grab our attention. Not one to call for back up she finds herself in several heart stopping situations. This is a wonderful read, the background of Newcastle and the landscape nearby unfolding as the story is read, revealing a dark heart in the lives of this small group of people.
Themes: Crime, Newcastle, Vera Stanhope, Succession.
Fran Knight