Click: A Click graphic novel by Kayla Miller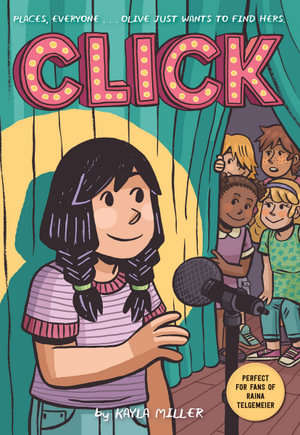 Olive is excited when her fifth grade teacher announces an end of year talent show but is soon disappointed when the rest of the class form groups and don't need her. Olive has lots of friends and is popular but it seems she is no-one's best friend and doesn't "click" with any group. At home, normally bubbly Olive is sad and withdrawn and her mother tries to help, but it is her eccentric Aunt Molly who, with the help of some old videos, helps her realise that finding her own voice and believing in herself is more important than just fitting in. Ultimately Olive's talent for being a friend to many allows her to imagine a role for herself and gives her the confidence to carry it out.
Author illustrator Kayla Miller's fun and relatable story is told using bold lines and bright colours with a cast of diverse characters and few words. The stand out quality of the illustrations is in the range of nuanced emotions expressed, especially when the groups are working together, both in body language and facial expressions, something that could be discussed in a class setting. There are three other books in this series and extended material is available on the author's web page.
Themes: Friendship, Family, Cliques.
Sue Speck