City of Lies by Sam Hawke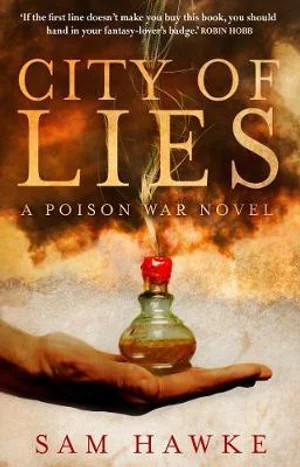 Winner of the Aurealis Award for Best Fantasy Novel (2018) and Ditmar Award for Best Novel (2019) City of lies is a slow burning epic fantasy that is sure to grab the attention of any fantasy reader. Right from the first sentence "I was seven years old the first time my uncle poisoned me . . . " the reader is taken into the world of Jovan, an expert in poisons, trained as a proofer or taster, to protect Tain, the Chancellor's Heir and his life-long friend. His sister Kalinda, her frail physique unable to manage the poisons, has been trained as a spy; quiet and unassuming, she manages to hear and see things that might threaten her city-state. When the Chancellor is poisoned and their uncle also succumbs, the pair find themselves trying to find out who the murderer is, while protecting Tain, now the head of their city. To make things even more difficult, an army has laid siege to their city and it looks as if the assassinations and rebellion are linked.
Written in the voices of Jovan and Kalinda in alternate chapters, the reader gets to know the feelings of both main characters. Jovan is very anxious and manages to calm himself by pacing and counting repetitively, while Kalinda must work very hard to overcome her physical disabilities. However, they are both intelligent and determined and very loyal to Tain and to their city and use their intelligence and resilience for the good of the state.
Hawke has described a very believable world that will resonate with readers as they catch glimpses of similarities to our world today. Silasta is rich and cultured, but the siege of the city reveals the flaws in the way the countryside has been ruled. The Council members have become greedy and the pacts to look after and educate workers, while respecting their religion have been forgotten. Spirituality is not respected and believers in the strength of the land are disregarded.
Readers who enjoy a mystery, sieges and escapes, and compelling main characters with flaws, are in for a treat and will want to move onto book 2, Hollow empire. Other books with poisons and assassination are Poison Study by Maria V. Snyder and His fair assassin series by Robin Lefevers.
Themes: Fantasy, Poisons, Assassination, Disability.
Pat Pledger