Bluey: Daddy putdown by Bluey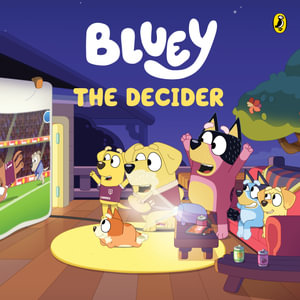 All the avid fans of Bluey, the very popular ABC children's show, will be thrilled to see another book about Bluey and her family. This time Mum is going off to a baby shower and Dad will be putting Bluey and Bingo to bed. Even though Mum promises to kiss Bluey goodnight when she comes home, Bluey is unhappy and apprehensive because it is always Mum who puts them to bed. Will Dad be up to the task, and will Bluey overcome her fears?
The story line will resonate in families who have children who are worried about change. Bluey is so used to Mum putting her to bed that it takes a lot of effort on the part of Dad to keep her occupied. He organises playing follow the leader and then pushes the duo on the swings. But it is not until Bluey uses her imagination and sets up her own baby shower to play with that she settles down.
With a durable cover and thick pages, Bluey: Daddy Putdown will withstand much use from young children. Illustrated with the iconic Bluey characters, the bright colours are gorgeous, and the details will be ones that children love. Bluey's baby shower is so cute, with all the toys sitting in a circle, each with different expression on their faces. And for carers there are some very funny moments that they will appreciate.
Another happy, feel-good book in this series that is sure to be popular with young children.
Themes: Change, Bedtime, Families.
Pat Pledger