Bill and the dream angel by Lucinda Riley and Harry Whittacker. Illus. by Jane Ray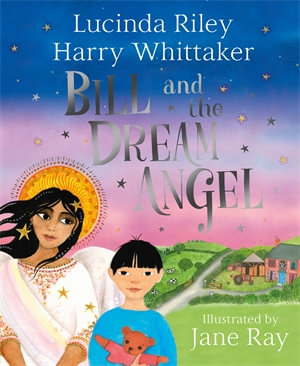 Award-winning author of adult books, Lucinda Riley wrote this picture book with her son Harry Whittaker as part of the Guardian Angels series of picture books before her death in 2021. The books are based on stories she used to tell her children when they faced challenging situations. Bill and the Dream angel is the second book in the series, the first being Grace and the Christmas angel and a third called Rosie and the Friendship Angel. This story involves a young boy called Bill and his family, who have moved from a small flat in the city to a large, converted barn on a farm. Bill is frightened by some strange noises he hears during the night and wishes to return to his old home in the city. The Dream angel hears his call for help and puts in motion the events that prove to Bill that the monsters he thought inhabited his new home are just noises that will turn out to be a wonderful, heart-warming discovery. Moving house can be a stressful time for families and this book could help to reassure children and assist them to settle into their new environment.
The illustrations by Jane Ray are beautifully executed, showing in great detail the process the family uses to unpack and arrange things to make Bill feel comfortable in his new surroundings. The inclusion of some wordless double-page spreads encourages discussion and provides details for young readers to come back to time and time again. An angel place marker ribbon is an added feature of this gift edition hardback book.
Themes: Moving house, Fear, Owls, Farm life.
Gabrielle Anderson