Bad magic: A Skulduggery Pleasant graphic novel by Derek Landy, P. J. Holden and Matt Soffe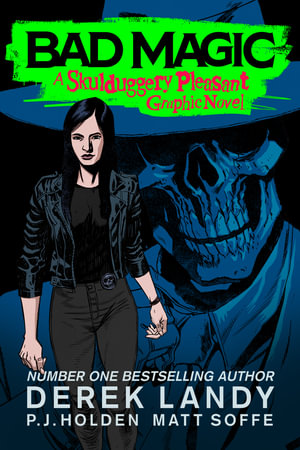 The small Irish town of Termoncara has had more than its fair share of tragedy, three kids have been murdered but no one seems to have done anything about it and the town seems to have closed in on itself. Local teen Jamie is terrified of a Joker-like monster that comes to his room and whispers bad things, feeding off his guilt about having a crush on his friend. When magical detectives, Skullduggery Pleasant and Valkyrie Cain start asking questions in the town about the murders and others over the past twenty years the same monster whispers suggestions and fosters bad thoughts in the townspeople, spurring them on to violence against the investigators. The stylish two set about finding the evil monster behind the killings but maybe they have met their match. Told in a full colour comic style graphic novel with plenty of violence, magical powers and a whole cast of monsters this is a fast but gripping read. The sharp dressing, sardonic Skulduggery character is effective but Valkyrie Cain's depictions are inconsistent and huge breasts and a tiny waist are seemingly needed when she is using her special powers. However, the monsters are so good they make up for any shortfalls and the main joker character is the stuff of nightmares. Lovers of the Skulduggery series which has been gaining momentum since 2007 will love this addition but it stands quite well alone.
Themes: Murder, Magic, Horror, Fantasy, Detectives, Dark comedy.
Sue Speck