Aurora's end by Amie Kaufman and Jay Kristoff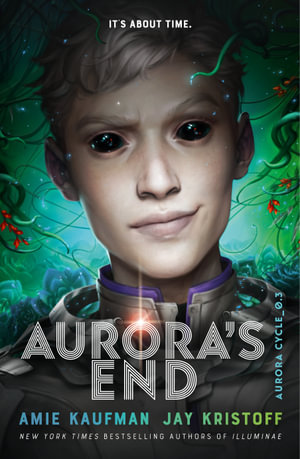 Kaufman and Kristoff bring the Aurora Cycle to a stunning conclusion in Aurora's End. Fans of the series will not be disappointed, and I can recommend this series to new readers who are sure to enjoy the adventure, excitement and clever dialogue that permeates all the books.
Fortunately for readers there is a quick resume of the cast at the beginning of the book to refresh memories since the last book! Then the action starts immediately after the cliff-hanger ending in Aurora Burning. The book is divided into four sections and told from the point of view of each of the members of Squad 312, all who have grown in skills and abilities during the series. Zila, Fin and Scarlett find themselves in a time warp and their actions bring together many threads of the series. In an unlikely grouping, Tyler, Kal and Auri together with Caersan and Saedii are pitched in a high-octane battle with the Ra'Haan, the hive-like enemy.
The action is relentless and breath taking and the scenarios that Kaufman and Kristoff have created are unique. In particular, the time loop that Zila, Fin and Scarlett face is amazing and the choices they must make while trying to save the galaxy are highly dangerous. The smart and often funny dialogue provides a welcome breathing space for the reader. The authors too, have managed to pull together all the threads and relationships in the story in a most satisfying way in the conclusion.
This is an easy to read but very original series that will keep readers glued to their seats with its clever plots, fast paced action and exciting adventures.


Themes: Science fiction, Relationships, Adventure.
Pat Pledger