Aristotle and Dante dive into the waters of the world by Benjamin Alire Saenz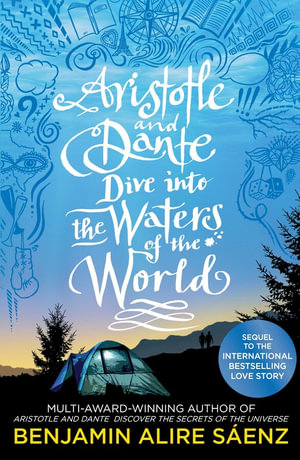 In the previous book it seems 17 year olds, Aristotle Mendoza and Dante Quintana discovered one another and have fallen in love. Here both are in their final year at different schools in El Paso Texas and must keep their relationship secret; it is enough to endure the entrenched racism towards Mexicans but they would be mercilessly bullied as homosexuals. This is particularly so as AIDS sweeps the country, polarising public opinion. Both are from loving families, Dante has no siblings but his mother is pregnant. Ari has twin older sisters, an older brother in prison for murder, and a dog. Since acknowledging he is gay, Ari is discovering more about himself and his family. He is able to grow closer to his Vietnam veteran father and talk about his imprisoned brother. But at the centre of his life is his love for Dante and the uncertainties that lie before them. Negotiating life they need to draw their own map of the world they want to live in. Told as a first person narrative though Ari's eyes and his journal writings, this coming of age love story gives a voice to all the beautiful, thoughtful, philosophical things we might all wish we could articulate to describe our feelings. But it felt inauthentic and manipulative as if the author had an agenda of things he wanted to say and pushed the narrative around to fit. The plot seemed to lose traction as the proponents flailed their way through the last year of school and characters seemed to appear and disappear when their part of the agenda was over. The book is purportedly set in the 80s when Aids was rampant but there was no other sense of this. Some troublesome gender issues have been pointed out at length online but it will be welcomed by those who fell in love with the previous book, Aristotle and Dante Discover the Secrets of the Universe, which was very well received.
Content warnings: Gender issues, violence, death, drug death, homophobia.
Themes: Love, Identity, Family, Gender issues.
Sue Speck